São Paulo is the Southern Hemisphere's most populous city and one of the planet's biggest. It was once a missionary outpost, but it is today the cultural and economic powerhouse of the country. The city is fondly called Sampa and the locals call themselves Paulistano. Carnival, soccer, and strong coffee name cafezinho bring out their passion.
Although São Paulo may not have the type of beaches, you will find in Rio, it compensates for it in culture. It is a creative and energetic city where you can taste the flavor from different parts of the world and enjoy the cool escape of the museums. Because of its incomprehensibly big size, it is great to start from the beginning of the city's history.
The Parque do Estado botanical gardens preserve some of the Atlantic Rainforest that once covered Brazilian Coast. When the Portuguese arrived, they transformed the landscape. At the Pátio do Colégio, stand on the same spot where São Paulo was founded in 1554. Their main church is the Metropolitan Cathedral which features a Renaissance dome modeled after the Cathedral of Florence in Italy.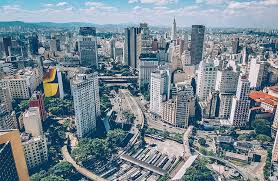 In the 17th century, this city grew exponentially thanks to the gold rush that attracted a lot of miners to the region. Then came African slaves who worked on the coffee and sugarcane plantations. More Europeans were attracted to the city in the 19th century while the 20th century saw many Japanese coming in. This made Brazil a melting point of cultures which is now the pulsing engine that drives the country's economy.
Centro is the city's oldest district and has been home to the largest Stock Exchange in Latin America since 1890. Avenida Paulista is three miles to the south of the city. It was built on the first coffee baron's wealth. As one of the main thoroughfares of the city and the financial artery of the country, this boulevard pulses with the energy of about 1.5 million pedestrians every day.
Besides investing in the country's financial economy, it also helps to boost its creative economy. This makes São Paulo one of the most exciting cultural hubs in Brazil. The Avenida Paulista is also home to the São Paulo Museum of Art. It has various collections of paintings by European masters including Picasso, Raphael, and Van Gogh as well as the country's leading artists.
At the Banco do Brazil, creativity and finance go hand in hand. It is a historic financial institution that hosts one of the most prominent cultural centers in São Paulo. Mercado Municipal is a great place to experience some of the best Brazil culinary cultures. It features delicious displays of meats, cheeses, and home-grown fruits as well as other local specialties.